I am skipping out of soccer today. It is pouring rain and I am feeling
a tad under the weather again. Mommy guilt is setting in.
1)I finally got around to uploading
some of my layouts from the crop in Wisconsin.
(that is what happens when you stay at home sick).
****I had uploaded some of my faves but for some reason
blogger is uploading them in FULL size, I'll try again later.
2) Kass got her hair cut shorter and some subtle red highlights this
week. She wanted bold red highlights, but thankfully our wonderful
hairdresser, Heather,knew that I was a little leery and
went on the lighter side. Thank you, Heather!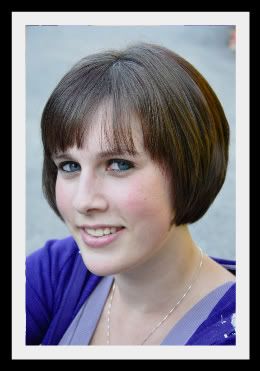 3) I ran 7 miles with my running partner, Lisa.
This is the farthest distance have ever run & it felt great!
I felt so good in fact, I finally committed to running
a 1/2 Marathon on November 8th.
I'll keep you all updated on my progress.
4) Friday night wine & pizza night has become a standard way
for us to spend our Friday nights. Scott makes some killer
homemade pizza and I provide the wine. Sometimes friends join us
and sometimes it is just us. This week our friend, Steph, joined us.
I am really loving this ritual!
5) Lily & I spent our Saturday afternoon at Alpine Indoor Rock Climbing
Gym.Her BFF, Riley, had a kick butt birthday party there. It was so
much fun watching the 10 girls climb to their hearts content.
Some of them were so agile and swift...including Lily.
Here is my little monkey in action: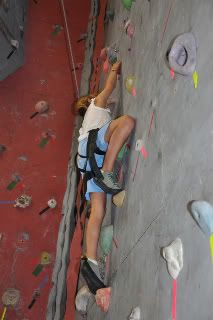 6) I have a little Etsy obsession. Have you visited Etsy? It is an amazing
online market place for crafters. All kinds of crafters. I have been
buying handmade items off of Etsy for several years & have
not once been disappointed. I started book marking vendors
this week for Christmas gifts. Here are some of the ones
that caught my eye this week: