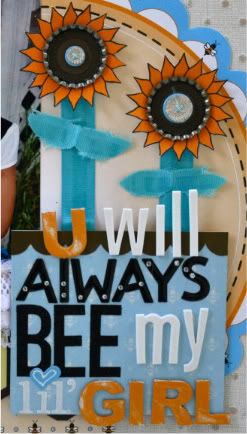 For this challenge, Kelly at
ScrapFIT
is challenging
you all to create a layout, card, or altered
with 1-3 handmade embellishments.
scrappy goodies for the ScrapFIT DT to play
with for this challenge. For my layout, I cut out the
sunflowers from Nikki's "Bee Food"paper, stuck a bottle
cap in the middle, then glued the sunflower center in
the bottle cap and topped it off with some cute burlap
buttons that Nikki sent. The title spot was made
with the pocket and some stickers from
Nikki's "Blue Bees" pocket full of stickers.
Such fun stuff to work with!
Be sure to upload your
ScrapFIT
challenge layout
by July 14th to be eligible for the prize from Nikki Silvils.