I think I might try to do What's Up? Wednesday
each week just to fill you in on all the random stuff
I have created, cooked, or have going on in my life.
Now if only I will remember each week......
So, "what's up?" this week in my world:
1) I helped throw a 40th b'day party for my friend, Cheryl
last Friday night. She wanted to have a designated bottle
of wine, so I spruced one up for her.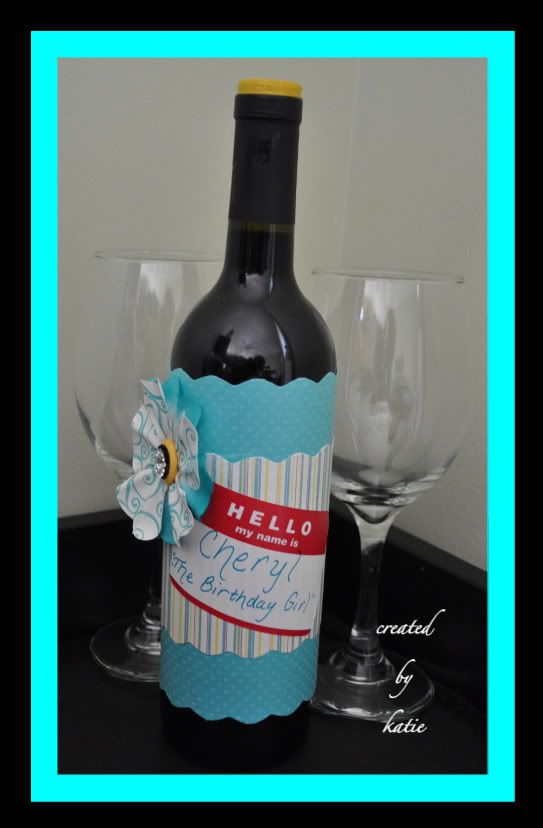 close up of the flower:
here we are all dressed up in 80's garb: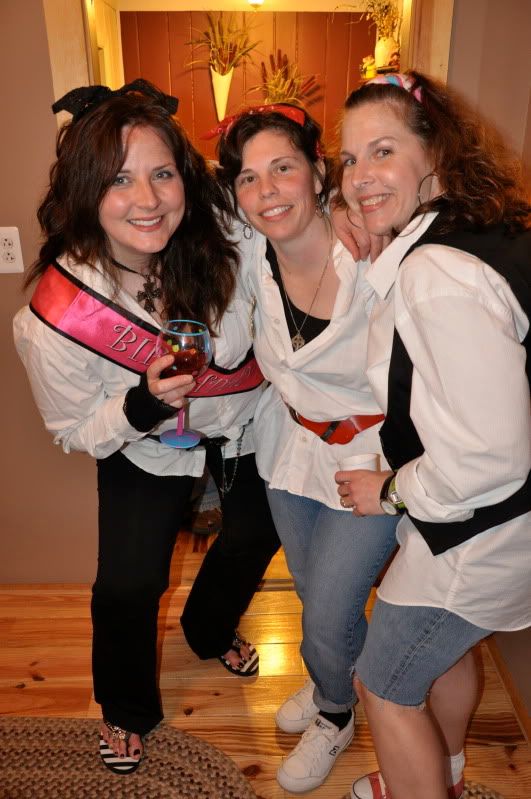 L to R: Cheryl (b'day girl), Tiff (co-hostess),
and Me(Debbie Gibson'd out!)
2) Sat through a painful School Budget Vote last night.
For those of you who don't live in a small town where you
can vote on your school budget BEFORE it goes to town vote,
you are missing out on some comical & sometimes sad, uneducated
conversation. I am thankful to have the right to vote on things like this
in our town, but am often baffled by the off-the-wall statements provided
by our town Warrant and Finance Committee.
(sorry for the little rant)
3) Made an awesome Pasta, Broccoli Alfredo
for the girls & I on Monday.
I adapted the recipe from Cooking Light &
just have to share it with you all...
4 servings (serving size: about 1 cup)
Ingredients:
8 oz. pasta
2 cups steamed broccoli
1 T olive oil
1 T minced garlic
1 tablespoon all-purpose flour
1 cup 1% low-fat milk
2/3 cup grated Parmigiano-Reggiano cheese
1/2 teaspoon salt
1/2 teaspoon black pepper

Preparation:
1. Cook pasta according to package directions.
Reserve 1/4 cup pasta liquid, then drain pasta.
2. While pasta cooks, heat olive oil then add garlic; sauté 1 minute, stirring constantly.
Sprinkle flour over garlic; cook 30 seconds, stirring constantly.
Gradually add milk, stirring constantly; cook 2 minutes
or until bubbly and slightly thick, stirring constantly.
Reduce heat to low. Gradually add cheese, stirring until cheese melts.
Stir in salt and reserved 1/4 cup cooking liquid.
Add hot pasta & broccoli to pan; toss well to combine.
Sprinkle with pepper.
Enjoy!
The Sassies have some awesome inspiration, as usual!
sister and some scrappy friends. I am so excited to be going, but have not
packed a thing! I think I will be throwing stuff in my totes tomorrow
after work and heading off. How do you pack for a crop?
Ok, enough rambling. I hope you all are having a fabulous week!