I am seeing more green every day here in Maine.
It seems a little strange to have the grass peaking out
so early in March, but I LOVE IT!
Spring is on it's way.
This Irish girl is happy that St. Patty's day
is coming right up, too.
How to celebrate all this green? Why not join our
"
Going Green
" Blog Hop with all the Sassies
Here is a little sneak of my "
Going Green
" project.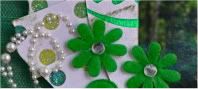 Be sure to check back tomorrow for all the details!!!